PGA Leaderboard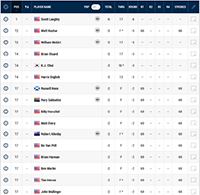 PGA Leaderboard -- Follow the weekly leaderboard on PGA.com.
Click to view the up-to-date
leaderboard
for each weekly tournament
Congrats Jordan!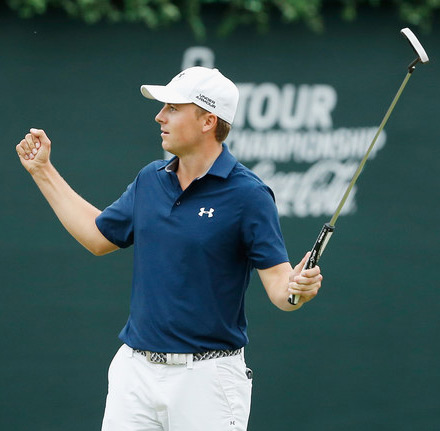 What a fantastic and exciting season for golf. Jordan truly is a great face for the game and he's a humble, entertaining, and classy player to watch.
Padraig Harrington rehabs knee with cryotherapy unit
The cryotherapy unit that PGA Tour golfer Padraig Harrington is using to rehab his right knee looks like something out of Iron Man.
...[+ full story]
Jordan Spieth plans to serve up Texas BBQ for Masters Champions Dinner
Jordan Spieth, PGA Tour golfer and defending Masters champion, said he is leaning toward a Texas-style barbecue for his Champions Dinner at Augusta National.
...[+ full story]
Tiger Woods: 'There is no timetable' for return to PGA Tour
Tiger Woods said Tuesday at the Hero World Challenge that "there is no timetable" for his return to golf following his most recent back surgeries.
...[+ full story]
Tee times, pairings: Hero World Challenge, first round
PGA Tour first-round tee times and pairings for the Hero World Challenge at Albany Resort in New Providence, Bahamas.
...[+ full story]
Matt Jones closes in on Masters berth following Australian Open victory
Matt Jones is one spot in the world rankings away from a Masters berth after his Australian Open victory.
...[+ full story]
Rickie Fowler appears on ESPN's College GameDay, goes 7-4 with picks
Rickie Fowler was the guest picker on ESPN's College GameDay on Saturday in Stillwater, Okla., and went 7-4.
...[+ full story]
Happy Thanksgiving! Pro golfers celebrate Turkey Day
The professionals display their appreciation and their cooking chops on Thanksgiving.
...[+ full story]
VIDEO: Jordan Spieth's 2009 Rolex Junior Player of the Year speech
A little Throwback Thursday: Jordan Spieth's speech from the AJGA's 2009 Rolex Junior All-America Awards Banquet.
...[+ full story]