PGA Leaderboard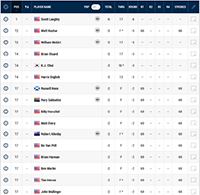 PGA Leaderboard -- Follow the weekly leaderboard on PGA.com.
Click to view the up-to-date
leaderboard
for each weekly tournament
Cape Cod Golf Shop

Cape Cod Golf Shop is now open. We are offering great prices on all the finest brands... look for our
custom embroidery shop
as well, featuring Vineyard Vines.
Fowler makes ace at Quicken Loans National, buys drinks for media
Rickie Fowler capped a 4-under 67 with an ace at the par-3 ninth Thursday at the Quicken Loans National before buying a round of drinks for the media.
...[+ full story]
Tiger overcomes poor start to card opening 68 at Quicken Loans National
Tiger Woods came alive after a poor start to shoot 3-under 68 in the opening round of the Quicken Loans National Thursday in Gainesville, Va.
...[+ full story]
PGA Tour OKs exemption for Bae, who faces South Korean military service
The PGA Tour's Player Advisory Council has supported a motion to give Sangmoon Bae an exemption in light of his duty to serve in the South Korea's military.
...[+ full story]
Summer of ?16 heralds season of change for PGA Tour schedule
The PGA Tour 2016 season will see some shake-ups in major championships and marquee events because of the Olympic Games.
...[+ full story]
SCORES: Quicken Loans National
The leaderboard from the PGA Tour's 2015 RBC Canadian Open with Tiger Woods and Rickie Fowler.
...[+ full story]
40 Reads: Passion and flair made Seve Ballesteros a Spanish legend
Seve Ballesteros won majors and excited the masses. His death at age 54 elicited tears in his homeland and from his legion of fans around the world. This tribute is among our 40 great reads.
...[+ full story]
As PGA Tour season nears end, FedEx points present little worry
A few PGA Tour players seem to feel little urgency in their FedEx Cup standing.
...[+ full story]
A long look back to last Tiger Woods, Phil Mickelson victories
Tiger Woods and Phil Mickelson will share a strange distinction in the odd event that neither wins again.
...[+ full story]