PGA Leaderboard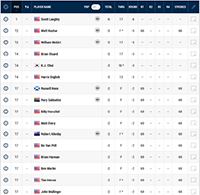 PGA Leaderboard -- Follow the weekly leaderboard on PGA.com.
Click to view the up-to-date
leaderboard
for each weekly tournament
Congrats Jordan!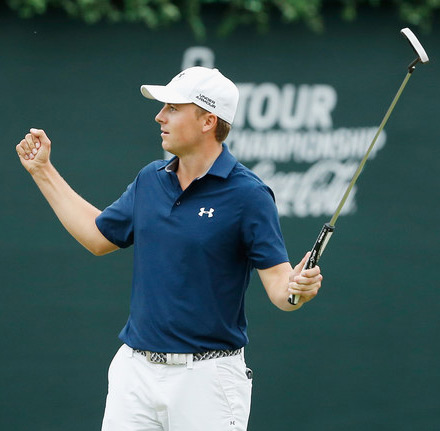 What a fantastic and exciting season for golf. Jordan truly is a great face for the game and he's a humble, entertaining, and classy player to watch.
PODCAST: Trailer Talk with Scotty Cameron
From inside the Scotty Cameron Studio, David Dusek talks about putters, Jordan Spieth and the new Futura X7 family with Titleist's master putter maker Scotty Cameron.
...[+ full story]
Ask the expert: Forged irons on the PGA Tour
David Dusek answers a reader's question about the percentage of golfers on the PGA Tour who opt for forged irons instead of cast irons.
...[+ full story]
Thailand's Janewattananond signs with ISM group
Thailand pro golfer Atwit ?Jazz? Janewattananond, 19, has signed on with Chubby Chandler?s ISM group.
...[+ full story]
Trend suggests FedEx Cup encourages top players to play more
The addition of the FedEx Cup Playoffs has encouraged some top PGA Tour players to play more events during the regular season.
...[+ full story]
Tiger Woods to attend, but not play Bridgestone America's Golf Cup
Tiger Woods, still unable to swing a golf club after a second microdiscectomy back surgery, will attend the Bridgestone America's Golf Cup Oct. 22-25 but not participate.
...[+ full story]
Record earnings on PGA Tour: Six players win $5 million-plus
The 2014-15 PGA Tour season set a record with five golfer earning more than $5 million, including Jordan Spieth and Jason Day.
...[+ full story]
VIDEO: Zach Johnson wishes competitors of his college event good luck
PGA Tour golfer Zach Johnson wished college golfers playing in his college event good luck on his way to the Presidents Cup on Monday.
...[+ full story]
Presidents Cup captains to face tough choices with new format
The 2015 Presidents Cup USA captain Jay Haas and International captain Nick Price will face tough lineup decisions with format changes for match in South Korea.
...[+ full story]